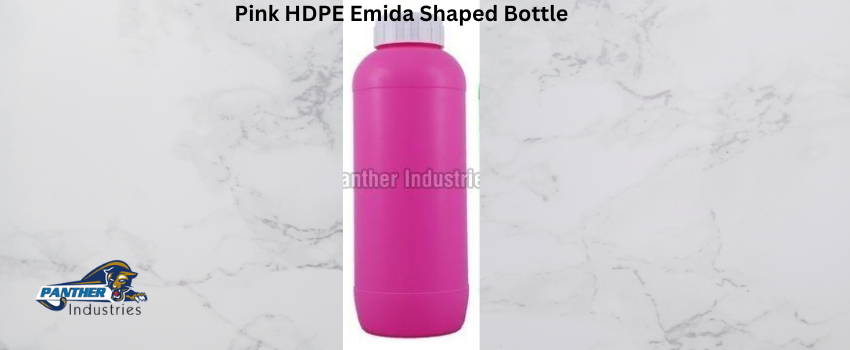 The HDPE Emida Shaped Bottle is a one-of-a-kind water bottle that can be customized to your liking.This formless design can hold up to 25% more water than standard plastic bottles. With the right promotion, this could be the next big bottled water or beverage product that everyone talks about!
Panther Industries is a well-known brand in the market. Plastic bottles such as Emida Shaped Bottles, Triangle Hexa Shaped Bottles, Mono Shaped Bottles, Sizanta Shaped Bottles, and Plastic Cans, etc are just a few of the products that they manufacture and supply. All of these products are made with high-quality raw materials, thus making them long-lasting and quite durable. All the Emida shaped bottles are available in different sizes and shapes on the website of Panther Industries.The plastic that is used to manufacture these bottles is non-toxic and completely safe for storing hot liquids. The Emida shaped HDPE bottles are dimensionally perfect as they use cutting-edge technology for the production of these HDPE bottles. Client satisfaction is their top priority, and they always succeed due to teamwork and dedication toward their work. So, if you want Emida-shaped bottles that are pink in color then you can search for Pink HDPE Emida Shaped Bottle Supplier
Pink HDPE Emida Shaped Bottle
Panther industries are one of the leading Manufacturers and Suppliers of Pink HDPE Emida Shaped Bottles. These HDPE Bottles are made with the highest quality HDPE materials that are sourced from vendors that are industry-certified. Their HDPE Bottles are manufactured by quality standards to ensure maximum client satisfaction. They ensure that they always conduct various stringent tests based on various parameters. Their products are well-liked for their precise dimensions, small and useful construction, long service life, resistance to abrasion and corrosion, and low cost. These HDPE Emida Shaped Bottles are widely used in the food industry, pesticide industry, chemical industry, and pharmaceutical industry.
As the demand for packaging has been surging, the requirement for plastic material has also been increasing. The demand for one type of plastic material, High-density polyethylene (HDPE) bottles, has increased to meet the growing need. HDPE bottles have a lot of advantages such as being resistant to light and being able to maintain their strength at high temperatures. So there is no surprise that HDPE Emida-shaped bottles are a popular type amongst many companies. It is simple to manufacture and can be customized to meet specific requirements such as thicker bottoms or narrower necks.
Kinds of Emida-shaped bottles
There are many kinds of Emida-shaped bottles that the panther industries manufacture and supply. Following are the various Emida-shaped bottles:
● The Yellow HDPE Emida Shaped bottle
● 1000 ML Emida Shaped plastic bottle
● 500ML Emida Shaped plastic bottle
● 250 ML Emida Shaped plastic bottle
● 100 ML Emida Shaped plastic bottle
● The Green ML Emida Shaped plastic bottle
● The Pink ML Emida Shaped plastic bottle
● The White ML Emida Shaped plastic bottle
● The Blue ML Emida Shaped plastic bottle
● The Multicolor ML Emida Shaped plastic bottle