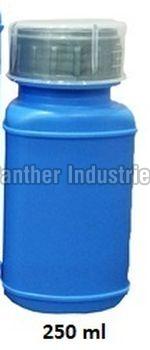 Triangle Hexa-shaped bottles are handy for transporting and packing liquids. The bottles are simple to fill and sanitise. Some Triangle Hexa-shaped bottles can be fluorinated to prevent the staining that some chemical chemicals and solvents cause. Triangle Hexa-shaped bottles made of various types of plastic can be ordered in bulk at a low cost, and these bottles come in a variety of qualities and colours. When you buy your Triangle Hexa-shaped bottles at a discount or a lower price, you save a lot of money on packing, your packaging investment is lower, and your profit grows.
Why Use Triangle Hexa Shaped Bottles?
Apart from being very easy to use and carry around, here are some other benefits that will interest you in choosing triangle Hexa-shaped bottles.
Safe and Rugged
Triangle Hexa-shaped bottles from Triangle Hexa-shaped bottle suppliers, unlike glass containers, are tough and robust; when dropped, they don't shatter into jagged fragments, making products and packaging safely handled. Triangle Hexa-shaped bottles offer important physical features such as toughness and chemical resistance because they are polymers, which are long molecules produced by joining many short ones together. Triangle Hexa-shaped plastic bottles are also less prone to spill or explode, safeguarding both the contents and the outside shipment containers.
Colors and shapes
Triangle Hexa-shaped bottle materials are simple to mould into several bottle forms, enhancing their beauty and functionality. Triangle Hexa-shaped bottle manufacturers, for example, include incorporated handles, measurement indications, and pouring lips in some plastic bottles. Furthermore, plastics come in a wide range of colours and shades, whether translucent or opaque, making products and companies easy to recognise by sight. The colouring pigment is blended into the plastic resin, so it never runs, rubs off, or washes off in plastic bottles.
Savings on energy
Triangle Hexa-shaped plastic bottles are lighter than glass bottles, lowering the amount of energy and money needed to ship things. Triangle Hexa-shaped plastic bottles require less energy to manufacture than glass bottles because plastics are soft and have low melting temperatures.
Material That Can Be Recycled
PET and other types of Triangle Hexa-shaped plastic bottles can be easily recycled after their initial usage into a variety of secondary goods, such as carpet fibres, pillow stuffing, tote bags, and strapping materials. Recycled plastic is also used in some Triangle Hexa-shaped beverage bottles and non-food containers. Triangle Hexa-shaped Plastic bottles' small weight reduces the cost of transporting recyclables to recycling centers.
These are HDPE bottles in triangle Hexa shape That are hard, eco-friendly, food-grade, leak-proof bottles with screw caps that are used in the chemical industry, food industry, and oil industry. Triangle Hexa-shaped bottles are albeit new to the market but have shown a booming response from the buyers in regards to their style, capacity, and durability.
Purchasing from the correct and trusted Triangle Hexa-shaped bottles supplier makes it easy for you to order in bulk and make returns whenever necessary. Trusted dealers are available all over the internet with verified addresses and contact details. You must always choose to buy Triangle Hexa-shaped bottles from reputed dealers as these are used to store edible and consumable products which, if gone wrong can meddle with your health and well-being.